We asked almost 15,000 members of our Audio Plugin Sales and Deals Facebook group to submit and vote on which deals they thought were the best this week.
Black Friday is getting closer! But there are still deals going on now... do you go for them? Do you wait and see what BF brings?! I can't tell you the answers...
But do make sure you're prepared. For the third year running there will be a growing list of Black Friday deals on the Audio Plugin Guy website. We will also be posting them on this site in the sales forums, sharing them on the Audio Plugin Sales twitter account and discussing them in our Deals and Freebies Facebook Group.
---
Offer expires October 27th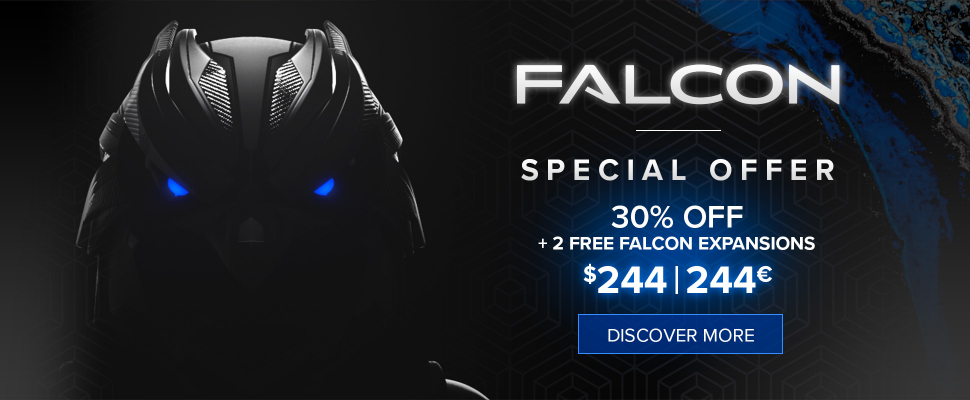 Falcon is an advanced and truly unlimited hybrid instrument, bringing together an extensive collection of cutting-edge oscillators, effects, modulators and event processors and delivering them in a workflow-adaptive and highly-scriptable environment. Falcon allows you to create and manipulate sound with unparalleled precision and finesse, from basic sample slicing and synth design to extravagantly modulated multitimbral hybrids.
Currently 30% off for new buyers plus two free expansions and a $100 voucher to spend in the UVI store. Those who already own Falcon have been pleasantly surprised to find this upgrade is free.
---
Expires November 1st.
This is one of those 'secret' weapons that producers and mix engineers kinda don't want everyone to know about... but if you ask them, they'll be unable to stop themselves from telling you how damned amazing it is!
Trackspacer creates space in a mix by carving the frequencies that the main track needs into another track in real time. Similar to a sidechain compressor, but a thousand times more powerful and transparent. It's considered a secret mixing weapon by many artists, producers and engineers.
Join the secret Trackspacer society NOW!
---
Ends November 1st.
Another bit of a secret weapon... many swear by it... others don't really get it... at 60% off it's still not cheap but if you've had your eye on this one, now is the time to buy!
INTENSITY is a new kind of audio processor for mixing, mastering and sound design. Built on techniques typically found in facial recognition algorithms, INTENSITY brings out a sound's inherent detail, increases its perceived loudness and density, and adds insane amounts of clarity. The unique algorithm carves out important signal features – making sounds sound more like themselves – and is operated with essentially one control. Between the proprietary algorithm and an optional soft-knee saturating limiter in the plugin's output stage, INTENSITY also excels at attaining maximum loudness and creating a beautifully aggressive tone.
---
Expiry unknown.
21 analog and digital tape machines - carefully sampled all around Europe - 40 finely crafted programs, 3 consoles, 2 compressors, a dedicated MIX control, authentic dynamic compression, real harmonic saturation and more. It took us over 10,000 minutes of sampling time to craft Taupe. This is not just the regular analog tape emulation plugin. It goes above and beyond that, giving you the world's most powerful tool to finally embed the sonic signature of iconic, rare and expensive stereo and multitrack tape machines into your creative workflow. Simply put, Taupe will take your whole conception of analog mixing and turn it ...upside down.
---
Can't argue with free!
SynthMaster Player is a simplied version of SynthMaster with limited editing capabilities. It is targeted towards users who prefer to use presets rather than designing their own sounds. It comes with 1800 factory presets. Users can edit the 12 easy parameters or the bypass states of layer/global effects assigned for each preset by the sound designer.
---
That's it for this week. You can check out the original poll here. Also, check previous Deals of the Week for deals that may still be running. And finally, make damned sure you're in the Audio Plugin Sales and Deals Facebook group to catch the best of the rest. See you there! x