We polled almost 25,000 members of our Audio Plugin Sales and Deals Facebook group to find out which deal might just be 'the one' this week.

To keep up with the latest sales and deals as they happen, join us in the Deals and Freebies Facebook Group, or follow the @RealPluginDeals twitter account for live updates and discussions. There's also a regularly updated and rather massive list of all current deals on the APG website. So bookmark that too!
The original poll is here, and you can discuss our Deals of the Week in our forums here. Don't forget to watch the video if you want to know what this week's Easter Egg is! 🥚
On with the show...
---
Expires August 31st
Every month, Plugin Boutique tempt us to buy more with an exclusive freebie. This month it's iZotope RX Elements 7. Very handy for cleaning up yer audio (and getting on the upgrade path!).
---
Expires September 1st
Many of us saw this coming with the recent discounts on these reverbs. Many of us aren't complaining.
---
Expiry unknown...
Use voucher code MUSIC_SOLIDARITY at checkout. 50% of all profits will be donated to the Spotify Music Relief Fund
---
Expires August 17th.
For only $79 (instead of $396), get the Plugin FX Bundle from Boz Digital Labs. Includes Transgressor 2, Sasquatch 2, The Wall, and Gatey Watey.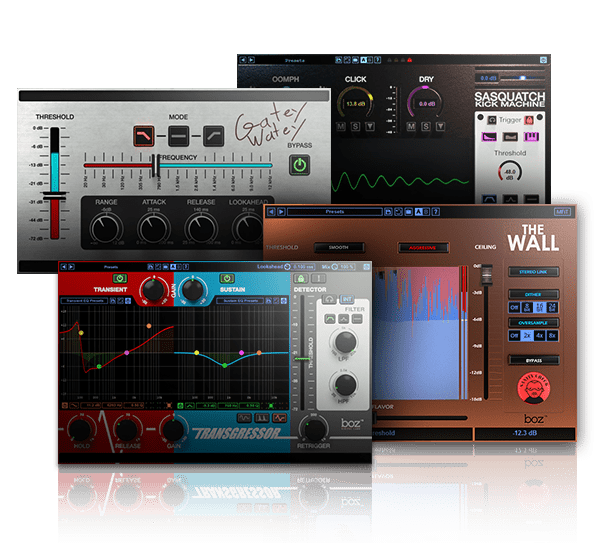 ---
Expires August 19th 
The Pulsar Audio "Echorec" is a software emulation of the iconic echo/delay unit of the same name produced by the Italian brand Binson in the 1960s. Going for €29.
---
Honorary Mentions
A few that didn't make the top-five but are worth checking out.
If you missed last week's Easter Egg in the run-down video then here it is: Get 80% off anything at Free To Use Sounds (including the entire collection bundle!) with code APGSOUNDS until August 14th.
Thanks for checking out this week's top five plugin deals. You can check out the original poll here to see a few other deals that didn't quite make the top-five. Also, check previous Deals of the Week for deals that may still be running. And finally, be certain that you're in the Audio Plugin Sales and Deals Facebook group to catch the best of the rest.
See you there! x
Background music to APS Deals of the Week videos by Sid De La Cruz:
Facebook | YouTube | SoundCloud | Vimeo